Clinical detection and monitoring of acute pulmonary embolism: proof of concept of a computer-based method
Annals of Intensive Care
2011
1:33
Received: 13 May 2011
Accepted: 11 August 2011
Published: 11 August 2011
Abstract
Background
The diagnostic ability of computer-based methods for cardiovascular system (CVS) monitoring offers significant clinical potential. This research tests the clinical applicability of a newly improved computer-based method for the proof of concept case of tracking changes in important hemodynamic indices due to the influence acute pulmonary embolism (APE).
Methods
Hemodynamic measurements from a porcine model of APE were used to validate the method. Of these measurements, only those that are clinically available or inferable were used in to identify pig-specific computer models of the CVS, including the aortic and pulmonary artery pressure, stroke volume, heart rate, global end diastolic volume, and mitral and tricuspid valve closure times. Changes in the computer-derived parameters were analyzed and compared with experimental metrics and clinical indices to assess the clinical applicability of the technique and its ability to track the disease state.
Results
The subject-specific computer models accurately captured the increase in pulmonary resistance (R pul ), the main cardiovascular consequence of APE, in all five pigs trials, which related well (R2 = 0.81) with the experimentally derived pulmonary vascular resistance. An increase in right ventricular contractility was identified, as expected, consistent with known reflex responses to APE. Furthermore, the modeled right ventricular expansion index (the ratio of right to left ventricular end diastolic volumes) closely followed the trends seen in the measured data (R2 = 0.92) used for validation, with sharp increases seen in the metric for the two pigs in a near-death state. These results show that the pig-specific models are capable of tracking disease-dependent changes in pulmonary resistance (afterload), right ventricular contractility (inotropy), and ventricular loading (preload) during induced APE. Continuous, accurate estimation of these fundamental metrics of cardiovascular status can help to assist clinicians with diagnosis, monitoring, and therapy-based decisions in an intensive care environment. Furthermore, because the method only uses measurements already available in the ICU, it can be implemented with no added risk to the patient and little extra cost.
Conclusions
This computer-based monitoring method shows potential for real-time, continuous diagnosis and monitoring of acute CVS dysfunction in critically ill patients.
Keywords
Pulmonary Vascular Resistance
Pulmonary Artery Catheter
Acute Pulmonary Embolism
Intraventricular Septum
Model Identification Process
Background
Traditional hemodynamic monitoring in critical care is constrained by the ease and frequency at which measurements can be made and taken. The use, number, and positioning of catheters is determined by the perceived risk-to-benefit ratio of inserting the device(s). Hence, catheters cannot always be placed in the most ideal position for monitoring a certain pathological state. Other factors, including expense and obstruction to clinical work flow, limit the regularity at which other measurements are taken, such as with the use of computer tomography and echocardiography. Due to these constraints, clinicians often do not receive a full picture of a patient's hemodynamic state, which can result in misdiagnosis and incorrect treatment, leading to inefficient use of hospital resources, increased length of stay, and death [1–5]. Integration of all available measurements in a mathematical framework of cardiovascular physiology could be employed to predict cardiac and circulatory status continuously in regions that cannot be directly measured. Such a method would provide a means to untangle the complex, often confusing interactions that occur between different measurements to better reveal a patient's underlying disease state, and therefore, maximize the useful information gained.
It has been proposed, and proven with glycemic control [6–8] and in other fields [9–12], that computer-based models can be used to assist medical staff with therapy-based decisions. For a model-based method to be clinically viable for hemodynamic monitoring in clinical practice it should:
Accurately predict static markers of the cardiovascular health,

Track pathologically important hemodynamic trends,

Track the effectiveness of treatment,

Be inexpensive and easy to implement,

Provide continuous real-time feedback,

Be an improvement on current hemodynamic monitoring methods.
If these points can be achieved, a better understanding of the patient's disease state can be obtained without added cost or invasive measurements, and the effectiveness of treatment can be monitored with greater accuracy, ultimately leading to improved outcome. A flow chart illustrating the proposed role of a model-based method in intensive care unit (ICU) is shown in Figure
1
.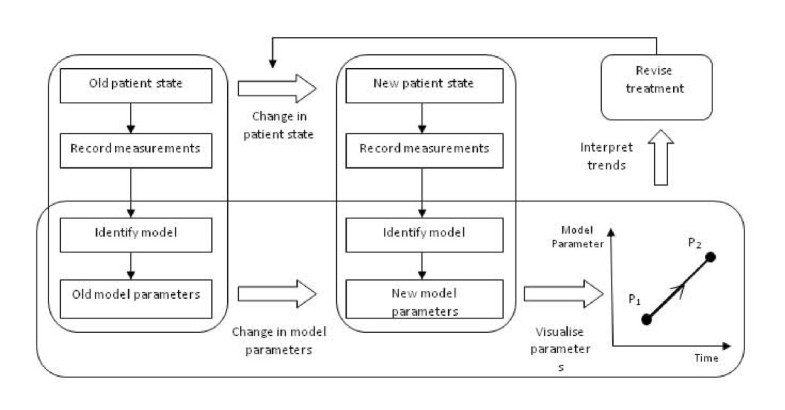 Previously, a mathematical model of the cardiovascular system (CVS) has been validated in different cardiac and circulatory states [
13
–
16
] and a method of personalizing the model from hemodynamic measurements had been created [
17
–
20
]. However, this method lacked clinical applicability for several reasons:
1)

It required knowledge of the left and right ventricular volume waveforms

2)

It was too slow to give real-time information

3)

Either knowledge of the left and right ventricular pressure waveforms were required or population-based assumptions were needed to identify the valvular resistances
Hence, to truly individualize a computer model of the CVS to each patient, highly invasive or expensive measurements of the left and right ventricle's were required, limiting the clinical use of this method.
This paper presents initial results from a newly developed method [21, 22], in which subject-specific modes of the cardiovascular system are identified from typically available ICU measurements. The object of the research was to test the accuracy and clinical applicability of this technology, with data from a previous study by Ghuysen et al. [23], before it is tested in human trials. This retrospective, proof of concept animal study uses measurements obtained from five porcine trials where acute pulmonary embolism (APE) was induced. The method has already been shown to predict static markers of CVS health, but its ability to monitor pathologically induced trends has not been assessed.
Hence, the goal of the paper was to assess the ability of the computer model to track clinically relevant hemodynamic changes resulting from APE. Changes in the model parameters are compared to clinically expected trends from the literature, experimentally derived metrics, and measured data, to test the ability of the model to track cardiovascular changes resulting from APE [23–25]. The overall goal was to demonstrate the clinical relevance and prove the concept (and potential) of model-based clinical monitoring of CVS status and acute dysfunction.
Methods
A computer-based hemodynamic monitoring technique was retrospectively tested using measurements from a porcine model of APE. In this research, a mathematical model acts as framework to which metrics of cardiac and circulatory state can be personalized to describe the subject particular hemodynamic state. The CVS model is individualized to each pig using a model identification method, which matches the model to cardiovascular measurements form porcine trials. The pig-specific models are then compared to measurements not used to identify the models and experimentally derived indices to assess their accuracy and clinical potential.
Results
Physiological model validation
Measurements not used in the identification process, were utilized post-identification to validate the accuracy of the pig-specific models. Figures
3
and
4
show an example of the personalised CVS model for pig 4 predicting the measured left and right ventricular volumes and pressures (
P
lv
,
V
lv
,
P
rv
,
V
rv
) at different time points during the trial. Median and 90
th
percentile errors were calculated for the modeled mean aortic and pulmonary artery pressures, LVEDV and RVEDV, and the maximum left and right ventricular pressures in each trial as summarized in Table
1
. Across all of the pigs, the modeled LVEDV and RVEDV and the maximum left and right ventricle pressures (
P
lv
,
P
rv
) lie within absolute error ranges of 4.1% to 15.1%. Furthermore, accuracy and precision metrics were calculated from the absolute errors in the model estimated LVEDV, RVEDV, and maximum
P
lv
and
P
rv
values. Noticeably, the errors are largest for pigs 1 and 2. These two pigs died during the trials with large drops in blood pressure and CO observed before death. For example, the mean aortic pressure and CO for pig 1 fall from baseline values of 92.4 mmHg and 2.3 L/min to 37.2 mmHg and 0.7 L/min, respectively. These values fall below what is considered a survivable physiological range for pigs of this size and result in low flow dynamics that cannot be represented by the CVS model. Hence, the averaged errors of Table
1
, and the accuracy and precision metrics of Table
2
are distorted by the model outputs identified from the measurement sets recorded directly before death in pigs 1 and 2.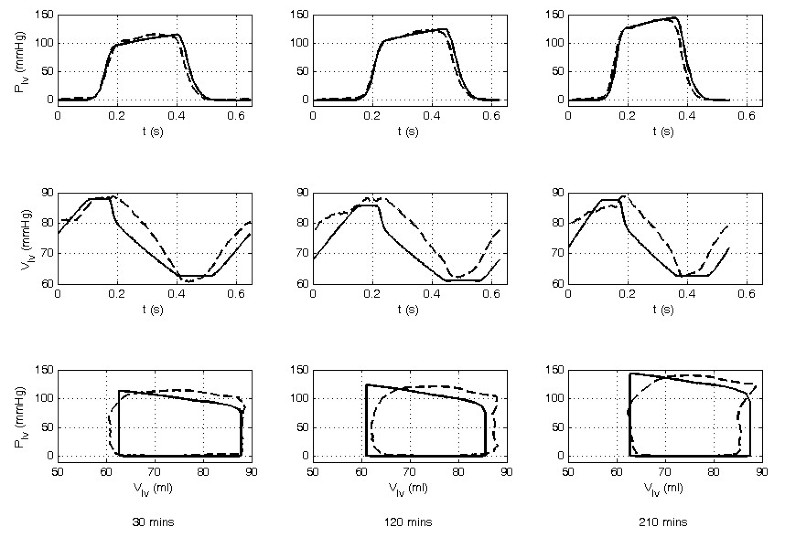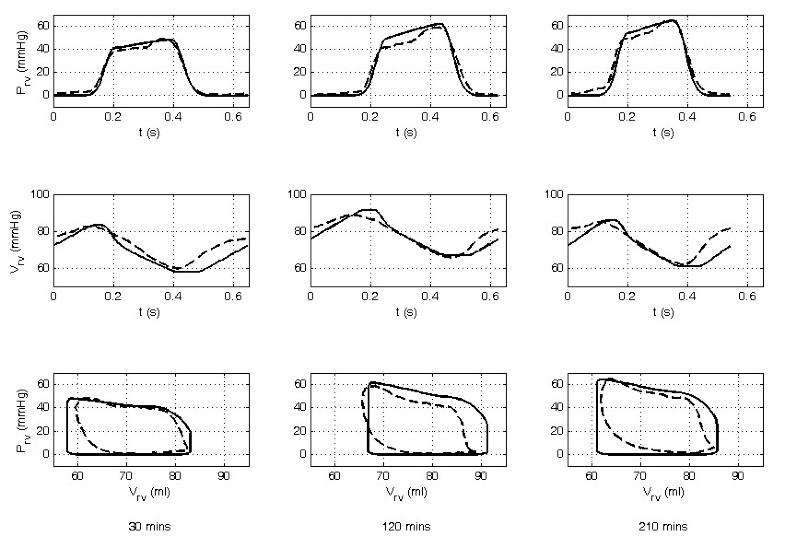 Table 1
Median and 90th percentile absolute percentage errors of the model outputs compared to measured data.
| Output | Error | Pig 1 | Pig 2 | Pig 3 | Pig 4 | Pig 5 | All |
| --- | --- | --- | --- | --- | --- | --- | --- |
| P ao, mean | Median | 0.2 | 0.1 | 0.2 | 0.1 | 0.1 | 0.1 |
| | 90 th | 0.5 | 0.1 | 0.4 | 0.5 | 0.2 | 0.4 |
| P pa, mean | Median | 0.1 | 0.1 | 0.1 | 0.0 | 0.1 | 0.1 |
| | 90 th | 0.5 | 0.1 | 0.1 | 0.1 | 0.1 | 0.4 |
| LVEDV | Median | 3.3 | 18.2 | 4.3 | 2.5 | 1.9 | 4.1 |
| | 90 th | 15.9 | 22.8 | 7.0 | 6.5 | 4.6 | 17.4 |
| RVEDV | Median | 6.5 | 15.8 | 4.3 | 2.6 | 1.9 | 4.4 |
| | 90 th | 14.6 | 18.9 | 7.4 | 7.0 | 6.9 | 15.3 |
| P lv, max | Median | 11.4 | 9.2 | 2.7 | 1.5 | 1.7 | 2.1 |
| | 90 th | 27.8 | 23.5 | 4.5 | 3.1 | 2.5 | 20.5 |
| P rv, max | Median | 15.5 | 30.6 | 3.7 | 2.7 | 18.4 | 15.1 |
| | 90 th | 18.3 | 31.6 | 15.6 | 5.7 | 23.3 | 27.2 |
Table 2
Accuracy and precision of the estimated left and right ventricular volumes (LVEDV, RVEDV), and maximum left and right ventricular pressures (P lv, max P rv, max )
| Output | Error | Pig 1 | Pig 2 | Pig 3 | Pig 4 | Pig 5 |
| --- | --- | --- | --- | --- | --- | --- |
| LVEDV (ml) | Accuracy | -2.1 | -11.1 | 1.2 | 0.5 | -0.8 |
| | Precision | 8.7 | 9.6 | 7.1 | 5.8 | 3.5 |
| RVEDV (ml) | Accuracy | 3.9 | 11.2 | 0.7 | -0.4 | 2.6 |
| | Precision | 9.8 | 9.1 | 6 | 5.9 | 3.5 |
| P lv, max (mmHg) | Accuracy | -10 | -16 | 3.6 | 0.8 | 2.2 |
| | Precision | 20.9 | 18.1 | 4.5 | 5 | 3 |
| P rv, max (mmHg) | Accuracy | 8.1 | 18.7 | 0.3 | 1.6 | 13.6 |
| | Precision | 4.8 | 2.4 | 6.8 | 3.4 | 7 |
Clinical proof of concept validation
Conclusions
The computer models of the CVS correctly estimated the known physiological responses to APE. An increase in R pul , the main hemodynamic consequence of APE, related well to the experimentally derived pulmonary vascular resistance. The individualized models also captured a loss of autonomous control of important reflex responses, R sys and E es, rvf , in pigs 1 and 2, leading to cardiovascular failure. Furthermore, the identified RVEI increased as emboli were inserted into the pigs, indicating a leftward shift in the intraventricular septum, which accurately matched the changes in the measured RVEI. These results clearly show that subject-specific models can be used to identify clinically useful and relevant cardiac and circulatory information in acute CVS dysfunction by accurate regular assessment of (model-based) subject-specific CVS status. Hence, this research demonstrates and proves the clinical relevance, concept, and potential of this model-based approach to CVS monitoring and diagnosis.
Abbreviations
APE:

acute pulmonary embolism
CO:

cardiac output
CVS:

cardiovascular system
GEDV:

global end diastolic volume
ICU:

intensive care unit
LVEDV:

left ventricular end diastolic volume
P ao :

aortic pressure waveform
P lv :

left ventricular pressure waveform
P pa :

pulmonary artery pressure waveform
P rv :

right ventricular pressure waveform
PVR:

pulmonary vascular resistance
R pul :

modeled pulmonary vascular resistance
R sys :

modeled systemic vascular resistance
RVEDV:

right ventricular end diastolic volume
RVEI:

right ventricular expansion index
V lv :

left ventricular volume waveform
V rv :

right ventricular volume waveform.
Declarations
Acknowledgements
This work was supported in part by the FNRS (Belgium), the FRST (New Zealand), the University of Liège, the Belgian French Community (ARC - Académie Wallonie-Europe) and the University of Canterbury (UoC Targeted Scholarship Scheme).
Authors' Affiliations
(1)
Department of Mechanical Engineering, Centre of Bioengineering, University of Canterbury, Christchurch, New Zealand
(2)
Department of Electrical Engineering, University of Canterbury, Christchurch, New Zealand
(3)
Cardiovascular Research Center, University of Liege, Belgium
(4)
Department of Intensive Care, Christchurch Hospital, Christchurch, New Zealand
Copyright
© Revie et al; licensee Springer. 2011
This article is published under license to BioMed Central Ltd. This is an Open Access article distributed under the terms of the Creative Commons Attribution License (http://creativecommons.org/licenses/by/2.0), which permits unrestricted use, distribution, and reproduction in any medium, provided the original work is properly cited.