Near infrared spectroscopy (NIRS) of the thenar eminence in anesthesia and intensive care
Annals of Intensive Care
2012
2:11
Received: 10 February 2012
Accepted: 26 March 2012
Published: 8 May 2012
Abstract
Near infrared spectroscopy of the thenar eminence (NIRSth) is a noninvasive bedside method for assessing tissue oxygenation. The NIRS probe emits light with several wavelengths in the 700- to 850-nm interval and measures the reflected light mainly from a predefined depth. Complex physical models then allow the measurement of the relative concentrations of oxy and deoxyhemoglobin, and thus tissue saturation (StO2), as well as an approximation of the tissue hemoglobin, given as tissue hemoglobin index.
Here we review of current knowledge of the application of NIRSth in anesthesia and intensive care.
We performed an analytical and descriptive review of the literature using the terms "near-infrared spectroscopy" combined with "anesthesia," "anesthesiology," "intensive care," "critical care," "sepsis," "bleeding," "hemorrhage," "surgery," and "trauma" with particular focus on all NIRS studies involving measurement at the thenar eminence.
We found that NIRSth has been applied as clinical research tool to perform both static and dynamic assessment of StO2. Specifically, a vascular occlusion test (VOT) with a pressure cuff can be used to provide a dynamic assessment of the tissue oxygenation response to ischemia. StO2 changes during such induced ischemia-reperfusion yield information on oxygen consumption and microvasculatory reactivity. Some evidence suggests that StO2 during VOT can detect fluid responsiveness during surgery. In hypovolemic shock, StO2 can help to predict outcome, but not in septic shock. In contrast, NIRS parameters during VOT increase the diagnostic and prognostic accuracy in both hypovolemic and septic shock. Minimal data are available on static or dynamic StO2 used to guide therapy.
Although the available data are promising, further studies are necessary before NIRSth can become part of routine clinical practice.
Keywords
Septic ShockSeptic PatientSequential Organ Failure AssessmentLevosimendanSeptic Shock Patient
Introduction
Oxygen delivery (DO2) and consumption (VO2) often are disturbed in critically ill patients [1]. Such disturbance may lead to pathological changes in tissue oxygenation. Thus, monitoring of tissue oxygenation appears desirable. Invasive monitoring of systemic DO2 and VO2 has been used in intensive care medicine for decades [2]. In contrast, no method for assessing tissue oxygenation has yet gained widespread clinical use. This is unfortunate, because tissue oxygenation may reflect changes in the microcirculation, a similarly important target for therapy during major surgery and in the critically ill. Disturbances in microcirculation are common and well documented in hemorrhage and critical illness [3, 4], and they logically relate to tissue oxygenation. Thus, monitoring of tissue oxygenation may provide useful information not only about the state of tissue oxygenation itself but probably about the state of the microcirculation. A potentially useful method to monitor tissue oxygenation may be offered by near infrared spectroscopy (NIRS)-based technology.
Although the concept of NIRS has already been available during the second half of the 20
th
century, its main initial application was for chemical analysis [
5
,
6
]. Since the end of the 1970s [
7
], numerous studies have been published about this method [
8
,
9
]. NIRS offers real-time noninvasive monitoring of oxy and deoxyhemoglobin in tissues within a few centimeters from the skin (Figure 
1
). Furthermore, so-called dynamic values, i.e., values registered during short occlusion of the vascular supply of the area under assessment can be measured. These dynamic values might give additional data on local VO
2
and probably the condition of the blood flow of the microcirculation [
10
]. Some NIRS variables also correlate with invasively monitored central circulatory variables [
11
]. More recently, due to device development, availability, and marketing, clinical research dealing with the utility of NIRS has focused on the specific methodology of NIRS of the thenar eminence (NIRS
th
).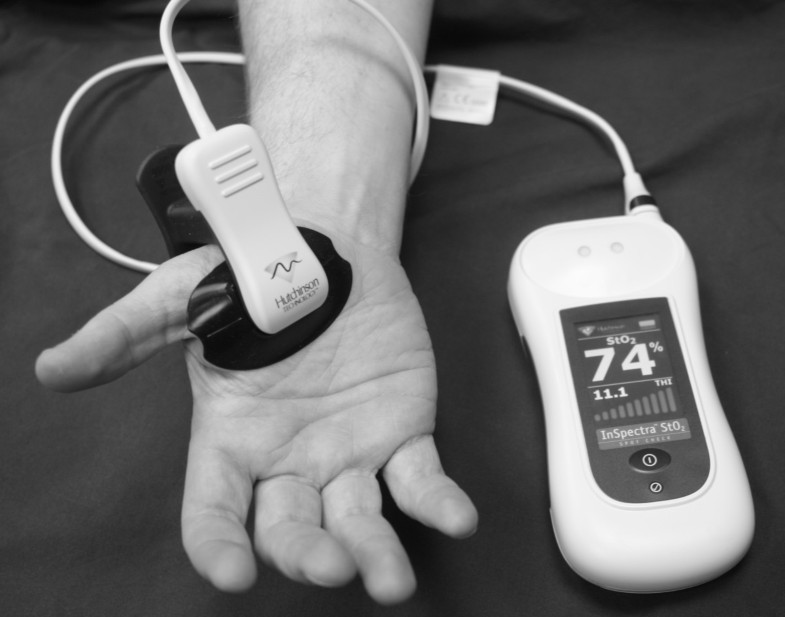 Clinical application of NIRSth remains a relatively new method in a field where no "gold standards" exist. Thus, clinicians considering the use of NIRSth need to understand the principles and evidence behind it and appreciate the many areas of uncertainty that surround its application. In this review, we assess several of these aspects and suggest studies to address areas of controversy.
The principle of clinical NIRS is to noninvasively measure the attenuation of light by hemoglobin, where the emitted light is in a wavelength range longer than visible light [12, 13]. NIRS utilizes a narrower spectrum of wavelengths than pulse oximetry, which penetrate deeper into the tissue [14]. Furthermore, whilst NIRS characterizes the total tissue oxy and deoxyhemoglobin in a quantitative and qualitative fashion [13], generating information on oxygen supply and demand, pulse oximetry monitors only hemoglobin in the arterial (pulsatile) part of the local circulation [15].
The near infrared (NIR) light spectrum ranges from 700 nm to 1000 nm. For clinical applications of NIRS, wavelengths approximately 700 to 850 nm are used. The interval stretches on either side of the isobestic point of hemoglobin, i.e., a given wavelength where absorption of light for oxy and deoxyhemoglobin is identical. This wavelength interval maximizes the difference between oxy and deoxyhemoglobin and minimizes the influence of other chromophores, such as myoglobin, cytochrome oxidase, melanin, and bilirubin, on the measurements [16]. Fortunately, the impact of myoglobin on NIRS for measuring tissue oxygenation is minimal [17, 18] and melanin, due to its superficial localization, is not a major issue in this regard. Increased conjugated bilirubin levels do influence measurements by dampening the signal. However, trends can still be followed even with jaundice [19].
Authors' Affiliations
(1)
Department of Surgery, Section of Anaesthesiology and Intensive Care, Uppsala University, Uppsala, Sweden
(2)
Department of Intensive Care, Austin Hospital, Melbourne, Australia
(3)
Australian and New Zealand Intensive Care Research Centre, School of Public Health and Preventive Medicine, Monash University, Alfred Centre, Melbourne, Australia
Copyright
© Lipcsey et al.; licensee Springer. 2012
This article is published under license to BioMed Central Ltd. This is an Open Access article distributed under the terms of the Creative Commons Attribution License (http://creativecommons.org/licenses/by/2.0), which permits unrestricted use, distribution, and reproduction in any medium, provided the original work is properly cited.