Physiological modeling, tight glycemic control, and the ICU clinician: what are models and how can they affect practice?
Annals of Intensive Care
2011
1:11
Received: 2 March 2011
Accepted: 5 May 2011
Published: 5 May 2011
Abstract
Critically ill patients are highly variable in their response to care and treatment. This variability and the search for improved outcomes have led to a significant increase in the use of protocolized care to reduce variability in care. However, protocolized care does not address the variability of outcome due to inter- and intra-patient variability, both in physiological state, and the response to disease and treatment. This lack of patient-specificity defines the opportunity for patient-specific approaches to diagnosis, care, and patient management, which are complementary to, and fit within, protocolized approaches.
Computational models of human physiology offer the potential, with clinical data, to create patient-specific models that capture a patient's physiological status. Such models can provide new insights into patient condition by turning a series of sometimes confusing clinical data into a clear physiological picture. More directly, they can track patient-specific conditions and thus provide new means of diagnosis and opportunities for optimising therapy.
This article presents the concept of model-based therapeutics, the use of computational models in clinical medicine and critical care in specific, as well as its potential clinical advantages, in a format designed for the clinical perspective. The review is presented in terms of a series of questions and answers. These aspects directly address questions concerning what makes a model, how it is made patient-specific, what it can be used for, its limitations and, importantly, what constitutes sufficient validation.
To provide a concrete foundation, the concepts are presented broadly, but the details are given in terms of a specific case example. Specifically, tight glycemic control (TGC) is an area where inter- and intra-patient variability can dominate the quality of care control and care received from any given protocol. The overall review clearly shows the concept and significant clinical potential of using computational models in critical care medicine.
Keywords
Virtual PatientGlycemic VariabilityTight Glycemic ControlPhysiological InsightExtreme Insulin Resistance
The critically ill patient
Critically ill patients can be defined by the high variability in response to care and treatment. In particular, variability in outcome arises from variability in care and variability in the patient-specific response to care. The greater the variability, the more difficult the patient's management and the more likely a lesser outcome becomes. Hence, the recent increase in importance of protocolized care to minimize the iatrogenic component due to variability in care. Recent articles [1, 2] have noted that protocols are potentially most applicable to groups with well-known clinical pathways and limited comorbidities, where a "one size fits all" approach can be effective. Those outside this group may receive lesser care and outcomes compared with the greater number receiving benefit.
Figure
1
defines this problem in terms of variability in care that protocolized care can reduce, and a different, potentially less reducible, component due to inter- and intra-patient variability in response to treatment. The larger the area, the more difficult the patient can be to manage. Thus, protocolized care reduces only the nonpatient portion of this diagram. Equally, those whose clinical pathway is "straightforward" and can benefit most from protocolized care are likely to have limited inter- and intra-patient variability in response to treatment. Hence, the smallest, least variable case is one in which intra-patient response is reduced or managed in a patient-specific fashion, thus separating the final area into several smaller ones. A focus of this paper is that the model-based methods discussed here can provide patient-specific care that is robust to these intra- and inter-patient variabilities.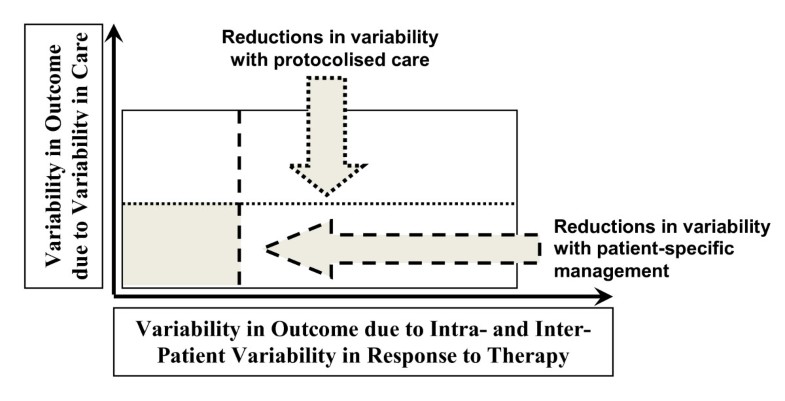 This issue is evident in many areas of care. For example, why are the complications of diabetes and therapeutic anticoagulation a leading cause of death or iatrogenic harm when they are amongst the most highly researched and understood fields in medicine? A PubMed search using the key words "diabetes mellitus" and "anticoagulation" returned 19,008 and 288,774 references, respectively, and a Google search multiplied these numbers to 1.14 M and 9.48 M pages. The collective experience of the drugs used in these conditions also is enormous; insulin, heparin, and warfarin were first used in humans more than 89, 76, and 57 years ago, respectively, and yet despite huge knowledge and experience, management of these conditions is fraught with problems.
What has led to this paradox? If, for example, managing diabetes was as straightforward as popping a few tablets or a daily insulin injection, doctors and patients would not still be struggling to get this right. Unfortunately, patients with diabetes have a widely variable clinical response, both within and between individuals, which often leaves clinicians unsuccessfully grappling with these nonlinear behaviors and responses. The randomized controlled trial (RCT) is regarded as the most reliable instrument on which to base treatment selection. However, recommendations from RCTs are based on overall cohort responses, not individual responses, and therefore cannot provide the necessary patient-specific therapeutic guidance, particularly when variability can have a major impact in titrating treatment.
We examine and review a new, emerging therapeutic approach that provides for individualized care that accounts for intra- and inter-patient variability within an overall protocolized and evidence-based framework. This review is done with reference to the management of glucose intolerance and diabetes in critically ill patients, but the overall approach is readily generalizable to other areas of intensive care medicine.
Physiological and clinical problem
Critically ill patients often experience stress-induced hyperglycemia and high insulin resistance [3–5] associated with increased morbidity and mortality [6–8]. Strong counter-regulatory (stress) hormone and proinflammatory immune responses lead to extreme insulin resistance and hyperglycemia, often exacerbated by high carbohydrate nutritional regimes and (relative) insulin deficiency. Inter- and intra-patient variability over different patients and as patient condition evolves make providing consistently tight glycemic control (TGC) across every individual patient a significant challenge, despite the growing use of protocolized care approaches.
This article uses TGC to present how computer models can be used at the bedside, within protocolized care, to provide patient-specific care and thus reduce the impact of intra- and inter-patient variability and provide care (within the shaded lower corner of Figure 1). TGC is a particularly apt example for model-based methods, as intra- and inter-patient variability in response to insulin can be extreme, leading to significant difficulty in providing safe and effective control [9].
In particular, recent randomized trials of TGC have failed to repeat promising early results [10–12]. Equally, reduced outcomes due to hyperglycemia, hypoglycemia (if control is poor), and glycemic variability [13, 14], and the overall physiological basis in inflammatory and oxidative stress responses are increasingly understood [15–17]. Thus, it seems increasingly clear that protocolization of care alone has not been able to reduce the variability in patient outcomes and that patient-specific solutions that manage inter- and intra-patient variation may be required to determine if TGC offers significant benefit. Hence, this review examines (physiological) model-based methods for TGC as a case example of the patient-specific solutions that are possible and the potential of these methods to improve care.
A series of questions
This review takes the reader through mathematical models in the context of TGC based on a series of clinically focused questions.
Summary
Models and model-based methods have a lot to offer in a wide range of clinical areas in medicine, and in critical care specifically. Using TGC as an example, they can offer significant physiological insight into patient status and behavior that are not readily available at the bedside or part of the typical, clinical mental model. Hence, they enable the means to develop and implement "one method fits all" patient-specific approaches to diagnosis and care. Their ability to reduce the impact of intra- and inter-patient variability, within a protocolized framework that reduces variability in care, can improve care and outcomes for all patients. Hence, models and model-based methods represent an important area of potentially increasing significance to the practice of critical care medicine, and TGC in particular, in the coming years.
Declarations
Acknowledgements
Financial support provided by:
Aaron Le Compte: New Zealand Tertiary Education Commission and NZ Foundation for Research Science and Technology Post-Doctoral Fellowship Grant
Sophie Penning: FNRS (Fonds National de la Recherche Scientifique) Research Fellow
Authors' Affiliations
(1)
Department of Mechanical Engineering, Centre for Bio-Engineering, University of Canterbury, Christchurch, New Zealand
(2)
Department of Intensive Care, Erasme University Hospital, Brussels, Belgium
(3)
Department of Intensive Care, Christchurch Hospital, Christchurch, New Zealand
(4)
Cardiovascular Research Centre, Universite de Liege, Liege, Belgium
Copyright
© Chase et al; licensee Springer. 2011
This article is published under license to BioMed Central Ltd. This is an Open Access article distributed under the terms of the Creative Commons Attribution License (http://creativecommons.org/licenses/by/2.0), which permits unrestricted use, distribution, and reproduction in any medium, provided the original work is properly cited.