Recognition and management of abdominal compartment syndrome among German anesthetists and surgeons: a national survey
Annals of Intensive Care
2012
2(Suppl 1):S7
Abstract
Background
Abdominal compartment syndrome (ACS) is a life threatening condition that may affect any critically ill patient. Little is known about the recognition and management of ACS in Germany.
Methods
A questionnaire was mailed to departments of surgery and anesthesia from German hospitals with more than 450 beds.
Results
Replies (113) were received from 222 eligible hospitals (51%). Most respondents (95%) indicated that ACS plays a role in their clinical practice. Intra-abdominal pressure (IAP) is not measured at all by 26%, while it is routinely done by 30%. IAP is mostly (94%) assessed via the intra-vesical route. Of the respondents, 41% only measure IAP in patients expected to develop ACS; 64% states that a simpler, more standardized application of IAP measurement would lead to increased use in daily clinical practice.
Conclusions
German anesthesiologists and surgeons are familiar with ACS. However, approximately one fourth never measures IAP, and there is considerable uncertainty regarding which patients are at risk as well as how often IAP should be measured in them.
Keywords
abdominal compartment syndrome
intra-abdominal pressure
intra-abdominal hypertension
intensive care unit
survey
questionnaire
bladder pressure
intra-vesical pressure measurement.
Introduction
Abdominal compartment syndrome (ACS) is defined as a persistent intra-abdominal pressure (IAP) of more than 20 mmHg accompanied by new organ dysfunction or failure. Left untreated, this condition has a high mortality rate [1–6]. Intra-abdominal hypertension (IAH) is defined by a sustained or repeated pathological elevation of IAP to more than 12 mmHg and is considered a precursor of ACS [1]. Both IAH and ACS may occur in any patient population requiring intensive care [7, 8].
According to surveys in Canada, Great Britain, Australasia, Belgium, China and the USA, detection and management of IAH and ACS are inconsistent [2, 4, 9–16]. Familiarity with the devastating consequences of increased IAP is abundant; however, the relevance of ACS in routine care varies. There is no agreement regarding the indication for IAP measurement and its timing [4]. Moreover, the threshold for decompression is still a matter of debate, as prospective randomized trials are missing [1, 10].
Whether a similar level of uncertainty concerning the recognition and management of ACS exists in Germany, and whether this may be related to the techniques available in clinical routine is unknown. We also speculate that a simple, more standardized technique might help improve monitoring of IAP. As comparable studies have yet to be published, we performed this one using a questionnaire.
Methods
In 2006, a questionnaire (see Additional file 1) was sent to the head physicians of departments of surgery and anesthesia in hospitals with more than 450 beds in Germany. This 450-bed threshold was chosen because hospitals of this size are frequently teaching hospitals and serve as referral centers for smaller hospitals with elective or out-patient surgery.
According to these criteria, the hospitals were selected via an internet-based hospital registry http://www.krankenhaus.net. A total of 222 questionnaires were sent out. Recipients were asked to reply by fax within 2.5 months. No reminder was sent.
Statistical analysis was calculated using Statistical Package for Social Sciences 12.0.1 for Windows (SPSS Inc., Chicago, IL, USA). Some questions could have more than one answer; in these cases, results were analyzed for multiple responses. The answers were analyzed with respect to training completed by unpaired non-parametric testing (Mann-Whitney U).
Results
A total of 113 questionnaires were returned, four were incomplete or unreadable. Excluding these, 109 questionnaires were analyzed (49%). Participants stated they had completed training either in anesthesiology (49%) or surgery (51%). Their indicated years of clinical practice averaged 21.8 (range 7 to 40).
The majority (65%) stated ACS rarely plays a role in their clinical practice; 24% are concerned regularly; 6% often. Not more than 5% do not encounter this complication. Responding to 'Do you measure IAP?', 28 (26%) stated 'no'. Of those 81 respondents (73%) who measured IAP, 48 (59%) do so 'Only when clinically indicated'. Failure to establish an IAP measurement technique, cited by 22 respondents (28%, see Figure
1a, b
), was the most common reason for not measuring it. The method indicated as most often used for IAP assessment was the measurement of intra-vesical pressure (bladder pressure measurement; 94%, multiple answers possible). In the other cases, a trans-gastric technique was reported. Multiple answers were possible for the question 'In which patients do you measure IAP?'. Respondents most often (41%) answered that measurement is only performed in patients thought likely to develop ACS (Figure
2
).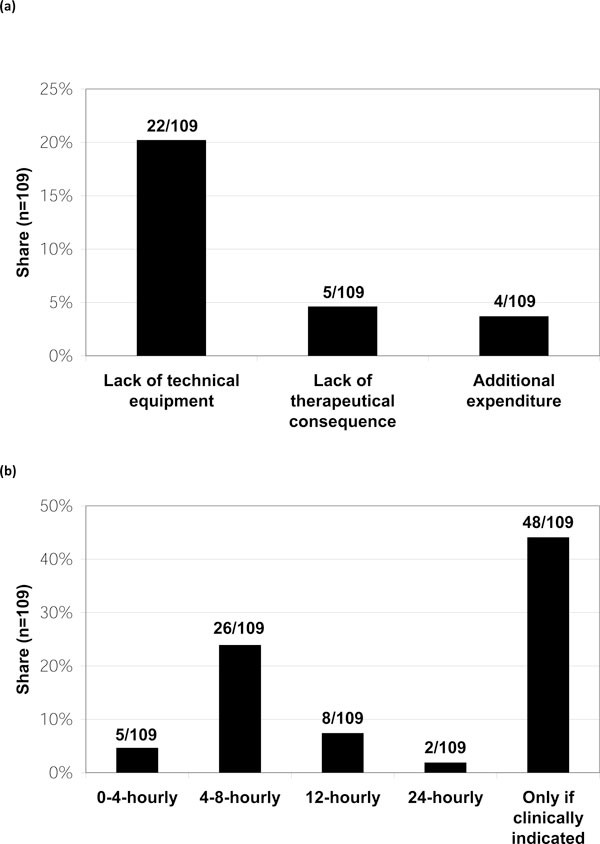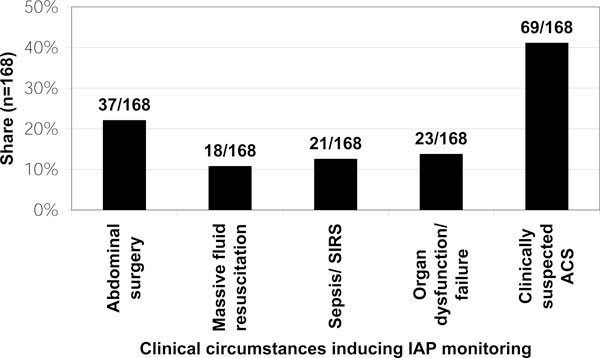 The majority (86%) of respondents stated that the decision to surgically decompress is rather a matter of beginning organ dysfunction than of exceeding pressure thresholds (Figure
3
). A simpler, more standardized application would lead to an increased use in 70 of 104 respondents (67%). Of the 26 participants not measuring IAP, even 77% think a simplified technique would improve acceptance.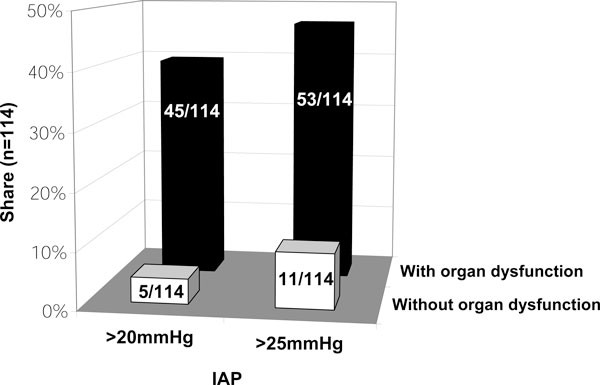 Discussion
Consensus definitions concerning ACS have been published in order to provide a basis for current treatment [1, 3, 8]. Prospective randomized trials are missing which is probably due to the variable incidence (1% to 15%), rapid progression and the disease pattern [17–19]. This situation leaves some questions open. Furthermore, the overall purpose of this survey was to study the current status in Germany.
Conclusion
ACS is known among German anesthesiologists and surgeons, and both groups do not differ in their attitude towards this complication. Measurement of bladder pressure appears to be the current standard to assess IAP. However, about one fourth of responding physicians in Germany never measure IAP, and there is considerable uncertainty about which patients are at risk of developing ACS and how often IAP should be measured. Regarding the IAP threshold for decompression (20 or 25 mmHg), respondents remain undecided. These findings lead to the overall impression that recognition and management of IAH or ACS need to be further established in Germany.
Abbreviations
ACS:

abdominal compartment syndrome
IAH:

intra-abdominal hypertension
IAP:

intra-abdominal pressure
WSACS:

World Society on the Abdominal Compartment Syndrome.
Declarations
Acknowledgements
The authors would like to thank the directors of the departments of surgery and anesthesia who sent in their replies. We would also like to thank Dawn Nichols for linguistic advice. The charges on the publication of this article were taken on by meas of the promotion programme "Open access publishing" by the German research council (Deutsche Forshungsgemeinschaft).
This article has been published as part of Annals of Intensive Care Volume 2 Supplement 1, 2012: Diagnosis and management of intra-abdominal hypertension and abdominal compartment syndrome. The full contents of the supplement are available online at http://www.annalsofintensivecare.com/supplements/2/S1
Authors' Affiliations
(1)
Department of Pediatric Cardiology and Intensive Care, University Children's Hospital, Hannover Medical School (MHH), Hannover, Germany
(2)
Department of Surgery, RWTH Aachen University Hospital, Pauwelsstrasse 30Aachen, Germany
(3)
Department of Surgery, Hochtaunus-Kliniken Bad Homburg, Germany
(4)
Institute of Experimental Animal Science, RWTH Aachen University Hospital, Aachen, Germany
Copyright
© Kaussen et al.; licensee Springer 2012
This article is published under license to BioMed Central Ltd. This is an open access article distributed under the terms of the Creative Commons Attribution License (http://creativecommons.org/licenses/by/2.0), which permits unrestricted use, distribution, and reproduction in any medium, provided the original work is properly cited.