Immunohaemostasis: a new view on haemostasis during sepsis
Annals of Intensive Care
2017
7:117
Received: 12 May 2017
Accepted: 20 November 2017
Published: 2 December 2017
Host infection by a micro-organism triggers systemic inflammation, innate immunity and complement pathways, but also haemostasis activation. The role of thrombin and fibrin generation in host defence is now recognised, and thrombin has become a partner for survival, while it was seen only as one of the "principal suspects" of multiple organ failure and death during septic shock. This review is first focused on pathophysiology. The role of contact activation system, polyphosphates and neutrophil extracellular traps has emerged, offering new potential therapeutic targets. Interestingly, newly recognised host defence peptides (HDPs), derived from thrombin and other "coagulation" factors, are potent inhibitors of bacterial growth. Inhibition of thrombin generation could promote bacterial growth, while HDPs could become novel therapeutic agents against pathogens when resistance to conventional therapies grows. In a second part, we focused on sepsis-induced coagulopathy diagnostic challenge and stratification from "adaptive" haemostasis to "noxious" disseminated intravascular coagulation (DIC) either thrombotic or haemorrhagic. Besides usual coagulation tests, we discussed cellular haemostasis assessment including neutrophil, platelet and endothelial cell activation. Then, we examined therapeutic opportunities to prevent or to reduce "excess" thrombin generation, while preserving "adaptive" haemostasis. The fail of international randomised trials involving anticoagulants during septic shock may modify the hypothesis considering the end of haemostasis as a target to improve survival. On the one hand, patients at low risk of mortality may not be treated to preserve "immunothrombosis" as a defence when, on the other hand, patients at high risk with patent excess thrombin and fibrin generation could benefit from available (antithrombin, soluble thrombomodulin) or ongoing (FXI and FXII inhibitors) therapies. We propose to better assess coagulation response during infection by an improved knowledge of pathophysiology and systematic testing including determination of DIC scores. This is one of the clues to allocate the right treatment for the right patient at the right moment.
Infection
Septic shock
Disseminated intravascular coagulation (DIC)
Host defence peptides (HDPs)
Contact phase
Neutrophil extracellular traps (NETs)
The aim of this review is to describe the battle between a foreign pathogen and the host regarding thrombin generation, one of the key molecules to win or to lose the war for surviving. Thrombin is involved in thrombus formation (via fibrin network), in anticoagulation and fibrinolysis [via thrombomodulin and (activated) protein C], focalisation (via glycosaminoglycans and antithrombin), but also in vascular permeability and tone (via endothelial cell receptors and kinin pathways) [1–3].
During infection, initiation of thrombin generation may occur through different pathways [
35
]:
i.

Bacteria initiation with endothelial invasion [4] and platelet activation (via FcγRIIa, αIIbβ3 and platelet factor 4) [5],

ii.

Bacterial polyphosphate (polyP) initiation through the "contact" pathway [6],

iii.

Endothelial cell expression of encrypted tissue factor (TF), vascular cell recruitment and activation by thrombin, cytokines and microparticles [1, 7, 8],

iv.
Haemostasis should therefore be considered as a non-specific first line of host defence—at least when localised to a unique endothelial injury—considering the growing role of platelets as immune cells [
11
–
13
]. This immune response has been called "immunothrombosis" [
14
]. In this line, immunohaemostasis process may help to capture pathogens, prevent tissue invasion and concentrate antimicrobial cells and peptides including thrombin-derived host defence peptides. Therefore, when regulated, a low-grade activation of thrombin generation may help survive the bacterial challenge [
14
]. Yet, inhibition of thrombin generation by Dabigatran promotes bacterial growth and spreading with increased mortality in experimental model of
Klebsiella pneumoniae
-induced murine pneumonia [
15
].
On the other hand, thrombin can become deleterious if ongoing activation of the coagulation, owing to defective natural anticoagulants, leads to excessive thrombin formation. Combined with defective fibrinolysis, thrombin results in fibrin deposits in microvessels and eventually in disseminated intravascular coagulation (DIC) [16, 17]. DIC thus represents a deregulation and/or an overwhelmed haemostasis activation response triggered by pathogens and/or host responses during septic shock [14]. DIC could be classified in "asymptomatic", "bleeding" (haemorrhagic), "thrombotic" (organ failure) and ultimately "massive bleeding" (fibrinolytic) type, according to its clinical presentation [18]. Except asymptomatic one, all types are characterised by delayed clotting times (PT and aPTT), low fibrinogen and platelets count owing to their consumption [19, 20]. Although known for many years, the role of DIC in the pathogenesis of septic shock remains a matter of debate [21–23]. Since then, coagulation was considered as a potential therapeutic target. The recognition of new targets implied in thrombosis—but not in haemostasis—opens a new window over innovative therapies.
For didactic settings, haemostasis can be separated into three phases:
i.

ii.

Propagation and regulation,

iii.
A brief overview of haemostasis is available in Additional file 1 and Additional file 2: Figure S1 provides the different steps of thrombin generation, fibrin formation and regulation [1, 24].
The contact between a prokaryote and a eukaryote can result in symbiosis or infection resulting in host or pathogen survival. To survive infection, the host initiates a complex inflammatory response including innate immunity, complement and coagulation pathways. These two cascades have a unique origin, but many refinements over the past 500 million years improved their specificities [25, 26]. In this view, coagulation is fundamental to survive and the following section will highlight the role of contact activation system (not involved in "normal" haemostasis), the interplay between pathogens, coagulation and fibrinolysis pathways, and the emerging role of antimicrobial host defence peptides generated by proteolysis of "coagulation" proteins [17, 27, 28].
Initiation: the emerging role of contact activation system (Fig. 1)
Physiology or pathophysiology?
An old view of haemostasis distinguished two initiation pathways: tissue factor ("extrinsic" pathway) and contact activation system (CAS) ("intrinsic" pathway). The latter requires a "contact" activator, prekallikrein (PK), high molecular weight kininogen (HK), factor XII (FXII) and FXI [
29
]. A deficit of one of these proteins results in prolonged aPTT although no haemorrhagic diathesis is evidenced in patients. CAS does not seem to be involved in "normal" haemostasis and may be restricted to pathological conditions resulting in negatively charged surfaces, including sepsis (via NETs and polyP), but also acute respiratory distress syndrome (ARDS) [
30
] and blood contact with artificial surfaces (intravascular catheters, extracorporeal circuits).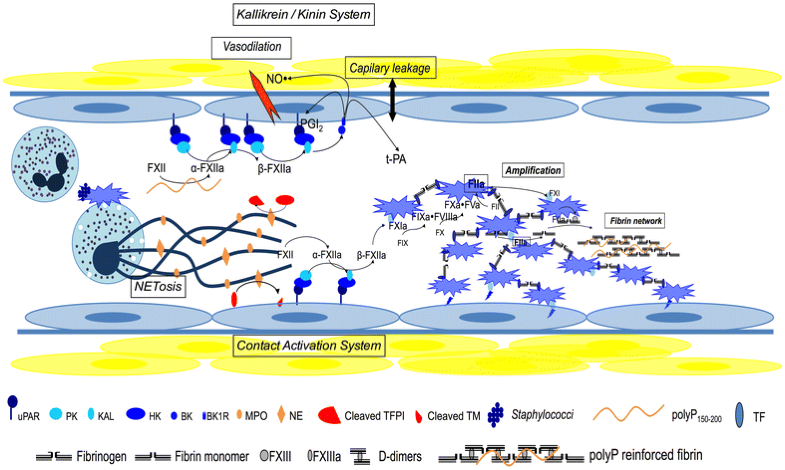 "Contact" activator is a negatively charged surface able to link and induce a conformational change in FXII that auto-activates FXII in α-FXIIa in the presence of Zn2+. Then α-FXIIa converts PK to kallikrein (KAL) that enable a reciprocal hetero-activation of α-FXII, leading to large amount of β-FXIIa and thereafter platelet GPIb-bound FXI activation. β-FXIIa is also able to activate the classic complement system pathway via C1r and to a lesser extent C1 s linking haemostasis and complement-mediated host defence [3].
CAS and PK also activate fibrinolysis and tissue proteolysis. HK linked to urokinase-type plasminogen activator receptor (uPAR) is able to activate pro-uPA into uPA that in turn activates plasminogen into matrix-bound plasmin. Moreover, BK induces tPA release by endothelial cells when linked to B1R [2].
Besides and related to CAS, the kallikrein/kinin system (KKS) is also activated [3]. CAS and PK also activate fibrinolysis and tissue proteolysis and are regulated by serpin C1 esterase inhibitor (C1-INH). A deficit (responsible for hereditary angioedema) or consumption (during septic shock but also after extracorporeal circulation) is responsible for increased permeability syndrome [31].
Polyphosphates (polyP)
PolyP are negatively charged inorganic phosphorous residue polymers, highly conserved in prokaryotes and eukaryotes. They are important source of energy, but are also involved in cell response. Half-life of polyP is very short due to their degradation by phosphatases [32, 33].
Medium-size soluble polyP60–80 are released by activated platelets and mast cells. They are able to induce FXII activation only if large amounts are present [34, 35]. PolyP60–80 could also bind α-FXIIa preventing further degradation, resulting in prolonged half-life. In the presence of fibrin polymers associated with polyP60–80, α-FXIIa can activate fibrin-bound plasminogen in plasmin, resulting in "intrinsic" fibrinolytic activity overcoming antifibrinolytic properties [36, 37]. Interestingly, activated platelets could retain polyP60–80 on their surface assembled into insoluble spherical nanoparticles with divalent metal ions (Ca2+, Zn2+). These nanoparticles provide higher polymer size and become able to trigger contact system activation [38, 39].
On the other hand, large-sized insoluble polyP150–200 are released by bacteria and yeasts. PolyP150–200 are able to support auto-activation of FXIIa and to promote thrombin generation independently of FXI activation. PolyP can bind FM resulting in clots with reduced stiffness and increased deformability [40]. Moreover, polyP150–200 are incorporated in fibrin mesh, inhibiting fibrinolysis [34].
Neutrophil extracellular traps (NETs)
Neutrophils have long been considered as suicidal cells killing extracellular pathogens. Few years ago, biology of neutrophils has evolved for a more complex network linking innate immunity, adaptive immunity and haemostasis [41–43]. Neutrophils do not only engulf pathogens (phagocytosis) and release granules content, but also release their nuclear content, essentially histones and DNA fragments resulting in a net. These NETs support histones and other granule enzymes like myeloperoxidase (MPO) and neutrophil elastase (NE). These fragments are called NETs for neutrophils extracellular traps, and they enable to trap pathogens and blood cells, including platelets, in their meshes [44].
Two mechanisms of NETosis are described: a suicidal one [44–46] and a vital one, with functional anucleated phagocytic cell survival [47]. Finally, the plasma membrane bursts and NETs are released [48].
NETosis plays a critical role in host defence through innate immunity, but also through other procoagulant mechanisms:
i.

Negatively charged DNA constitutes an activated surface for coagulation factors assembly, including contact phase;

ii.

Enzymatic inhibition of tissue factor pathway inhibitor (TFPI) and thrombomodulin (TM) by neutrophil elastase;

iii.

Direct recruitment and activation of platelets by histones [14].
Recent data support a direct activation by DNA and histones more than NETs themselves [
49
]. High levels of circulating histones have been evidenced in septic shock. Histone infusion induces intravascular coagulation with thrombocytopenia and increased D-dimers. Antihistone antibodies can prevent both lung and cardiac injuries in experimental models. C-reactive protein can bind histones and reduce histone-induced endothelial cell injury. C-reactive protein infusion rescues histone-challenged mouse [
50
].
Pathogen-induced modulation of blood coagulation (Table 1)
Host defence peptides
Innate immunity is mediated by cell activation via Toll-like receptors (TLRs). Resulting cationic and amphipathic small peptides (15–30 amino acids, < 10 kDa) have many biological properties including direct bactericidal effects, but also immunomodulation and angiogenesis. They have been named "host defence peptides" (HDPs) or "antimicrobial peptides" (AMPs).
In eukaryotes, we can identify defensins (disulphide-stabilised peptides) and cathelicidins (α-helical or extended peptides). HDPs can be classified into three categories regarding their target on prokaryotes:
i.

Plasma membrane-active peptides disrupting membrane integrity,

ii.

Intracellular inhibitors of transcription or translational factors and

iii.

Cell wall-active peptides interfering with cell wall synthesis and bacterial replication [82].
Limited proteolysis of many proteins involved in blood coagulation (activators as well as inhibitors) is now recognised as HDPs and may participate to host defence. Interestingly, the development of synthetic HDPs is a new therapeutic anti-infectious strategy regarding resistance of pathogens to (conventional) antibiotics [
83
].
Serine protease-derived peptides
Human serine proteases (including vitamin K-dependent blood coagulation factors and kallikrein system peptides) can be cleaved by proteases to generate C-terminal peptides with direct antimicrobial activities [84]. GKY25 is released from FIIa, FXa and FXIa after cleavage by neutrophil elastase [85]. This peptide is able to slightly reduce P. aeruginosa growth but also to significantly reduce both inflammatory response and mortality [86]. Bacteria are also able, mainly by unknown mechanisms, to generate HDPs from fibrinogen (GHR28) and high molecular weight kininogen (HKH20 and NAT26).
Serpin-derived peptides
Serpins (or serine protease inhibitors) can also generate HDPs. Heparin cofactor II (HCII) can be cleaved by neutrophil elastase after binding to glycosaminoglycan [87], and KYE28 displays antimicrobial properties against gram-negative and gram-positive bacteria but also against fungus [87]. Moreover, KYE28 can bind LPS dampening inflammatory response [88]. FFF21 derived from antithrombin also shares antimicrobial activity after permeabilisation of bacterial membrane [89]. Protein C inhibitor-derived SEK20 peptide displays antimicrobial activity [90]. Interestingly, platelets can bind PCI under activation resulting in high concentration of PCI at site of platelet recruitment as observed during infection [91].
Activation of the coagulation cascade is a physiologic, innate and adaptive response during infection. This response can be overwhelmed, becoming hazardous and referred to as DIC meaning disseminated intravascular coagulation, as well as "death is coming" [92]. For many years, only two conditions were distinguished: "no DIC" and "DIC". This "schizophrenic" view of haemostasis needs to be reissued, as proposed by Dutt and Toh [93]: "The Ying-Yang of thrombin and protein C". There is indeed a continuum from adaptive to noxious thrombin generation. Moreover, DIC remains a medical paradigm for critical care physicians: clinical diagnosis is often (too) late and biological diagnosis (too) frequent in the absence of clinical signs or therapeutic opportunities [94].
Clinical diagnosis
Most patients with sepsis and septic shock do not present any clinical sign of "coagulopathy", while routine laboratory tests are disturbed. Clinical examination should focus on purpura, symmetric ischaemic limb gangrene (with pulses) [95] and diffuse oozing. A very specific sign is "retiform purpura", which is a netlike purpura reminiscent of livedo. However, unlike classic livedo, in which meshes are erythematous, meshes are here purpuric. The absence of induced bleeding on retrieval when the skin is punctured to a depth of 3 to 4 mm within a livid or purpuric area is a good indication of thrombotic microangiopathy [96].
Laboratory criteria
A single test will never be able to diagnose and stratify sepsis-induced coagulopathy. Only a combination of the presence of underlying disease associated with evidence of cellular activation in the vascular compartment (including endothelial cells, leucocytes and platelets), procoagulant activation, fibrinolytic activation, inhibitor consumption and end-organ damage or failure will allow such diagnosis.
A syllogism precludes anticoagulant therapy during severe sepsis and septic shock: "more severe is the infection, more thrombin is generated", "more thrombin is generated, more organ failure and death supervene", so "more you prevent thrombin generation, more you will improve your patient with severe infection". This view forgets that haemostasis is mandatory to survive sepsis via many pathways, including newly recognised immunothrombosis and HDPs. In fact, "anticoagulant" treatments disrupt a tight equilibrium between pathogen and adaptive host response and may lead to more deaths in a group of patients (adaptive haemostasis) and to fewer deaths in another group (noxious haemostasis). Recognition of "noxious haemostasis" remains a medical paradigm for critical care physicians. Negative therapeutic interventions [
135
,
136
], drotrecogin alfa withdrawal [
137
], but also emerging concept of immunothrombosis [
14
] could argue for a radical "tabula rasa" regarding coagulation during septic shock. The debate is still open and can be summarised in one question: "Should all patients with sepsis receive anticoagulation?" [
138
,
139
]. Finally, whether immunohaemostasis/DIC clinical assessment is reliable remains a major issue (Fig.
2
).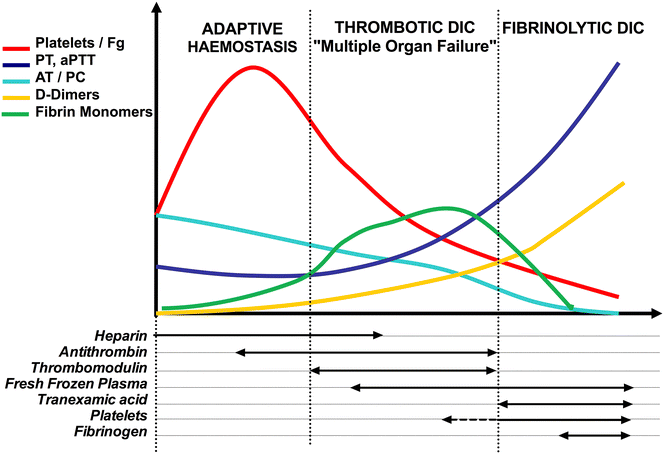 A mini-review of current (and past) therapies is provided in supplementary data (Additional file
1
, Additional file
4
: Table S2, Additional file
5
: Table S3 and Additional file
6
: Figure S2) regarding:
i.

limitation of thrombin and fibrin generation,

ii.

DIC with thrombotic/multiple organ failure pattern,

iii.

DIC with haemorrhagic pattern.
In the following section, we will present an overview of therapies focused on immunohaemostasis activation.
Up to date, it is not possible to propose a unique strategy to diagnose and treat coagulation disorders during infection and septic shock. On the one hand, an "old view" considered activation of blood coagulation as one of the principal ways to die and thrombin as the principal suspect. This view was the rationale for anticoagulation during septic shock, with many experimental data supporting it. Nevertheless, all clinical trials—with the exception of PROWESS trial—failed to improve survival in unselected septic shock patients. On the other hand, recent experimental and clinical data support a beneficial role of blood coagulation to survive sepsis, including immunohaemostasis. The first step to improve patients' care is to stratify the "coagulopathy". A combination of biological tests must be used daily, eventually combined in scores. We believe that JAAM 2006 and JAAM-DIC scores, taking into account the inflammatory syndrome and evolution, are the most appropriate. New markers of cell activation may be of interest. The second step is the choice of therapeutic intervention. Treatment of both infection and shock without delay is mandatory. Then, anticoagulation may be considered. To date, no recommendation can be made according to international guidelines with a high level of proof. Nevertheless, three different patterns could be recognised (Fig.
2
):
i.

Absence of obvious coagulopathy with high platelet count, low D-dimers, subnormal PT and AT requiring only prevention of thrombosis by unfractionated or low molecular weight heparins.

ii.

Thrombotic/multiple organ failure coagulopathy (also referred as thrombotic DIC) with "low normal" platelet count, prolonged PT, decreased AT and mild to moderate D-dimers level; clinical presentation may combine organ failure and cutaneous signs like symmetric limb gangrene with pulses and retiform purpura. Antithrombin and recombinant soluble thrombomodulin must be considered. New treatments targeting FXIIa, FXIa, polyP and NETs preventing thrombosis are in development and improve survival in experimental sepsis or septic shock. They have not yet been tested in humans.

iii.

Haemorrhagic/fibrinolytic coagulopathy with very low platelets, fibrinogen and AT, prolonged coagulation times and clinical oozing. Massive transfusion of fresh-frozen plasma, platelets and fibrinogen is required, with antifibrinolytic drugs.
New clinical trials are necessary to support this view and to improve patients' care.
Abbreviations
ADAMTS13:

a disintegrin and metalloprotease with thrombospondin type 1 motif
CAS:

contact activation system
DIC:

disseminated intravascular coagulation
FDPs:

fibrin(ogen) degradation products
HDPs:

host defence peptides
HK:

high molecular weight kallikrein
ISTH:

International Society for Thrombosis and Haemostasis
JAAM:

Japanese Association for Acute Medicine
KAL:

kallikrein
KKS:

kallikrein/kinin system
MPO:

myeloperoxidase
MPs:

microparticles
NE:

neutrophil elastase
NETs:

neutrophil extracellular traps
PCI:

protein C inhibitor
Pg:

plasminogen
polyP:

polyphosphates
SK:

streptokinase
TAFI:

thrombin-activatable fibrinolysis inhibitor
TMAs:

thrombotic microangiopathies
UL-vWF:

ultralarge von Willebrand factor
Authors' contributions
XD was the primary author responsible for literature search and review. XD, JH and FM were involved in the generation of the first version of the manuscript and then in critical revision, editing and generation of revised manuscript. All authors read and approved the final manuscript.
Authors' information
XD (MD, Ph.D.), consultant, JH (MD, Ph.D.), consultant and lecturer and FM (MD, Ph.D.), consultant, professor and head, all in critical care medicine—service de réanimation médicale, Nouvel Hôpital Civil—Hôpitaux Universitaires de Strasbourg, Strasbourg (France).
Acknowledgements
We want to thank Asaël BERGER (MD) for literature search.
Competing interests
The authors declare that they have no competing interests.
Availability of data and materials
Not applicable for this review.
Consent for publication
Not applicable for this review.
Ethics approval and consent to participate
Not applicable for this review.
Funding
No funding was obtained for the creation of this review.
Publisher's Note
Springer Nature remains neutral with regard to jurisdictional claims in published maps and institutional affiliations.
Open AccessThis article is distributed under the terms of the Creative Commons Attribution 4.0 International License (http://creativecommons.org/licenses/by/4.0/), which permits unrestricted use, distribution, and reproduction in any medium, provided you give appropriate credit to the original author(s) and the source, provide a link to the Creative Commons license, and indicate if changes were made.
(1)
Université de Strasbourg, Faculté de Médecine & Hôpitaux Universitaires de Strasbourg, Service de Réanimation, Nouvel Hôpital Civil, Strasbourg, France
(2)
INSERM (French National Institute of Health and Medical Research), UMR 1260, Regenerative Nanomedicine (RNM), FMTS, Université de Strasbourg, Strasbourg, France
(3)
INSERM, EFS Grand Est, BPPS UMR-S 949, Université de Strasbourg, Strasbourg, France